We are
Bloom Robbins
Bloom Robbins was founded by a young couple from Slovakia. Their journey began in 2015 with the development of their first Bloom Hair product, Bloom Robbins child. Since then, they have not only become the most famous dietary supplement for hair in Slovakia and Czech republic, but they have also expanded into 5 European countries and the US..
More about our journey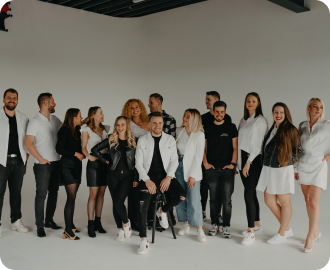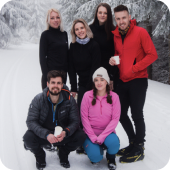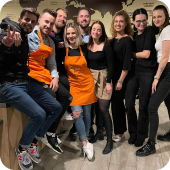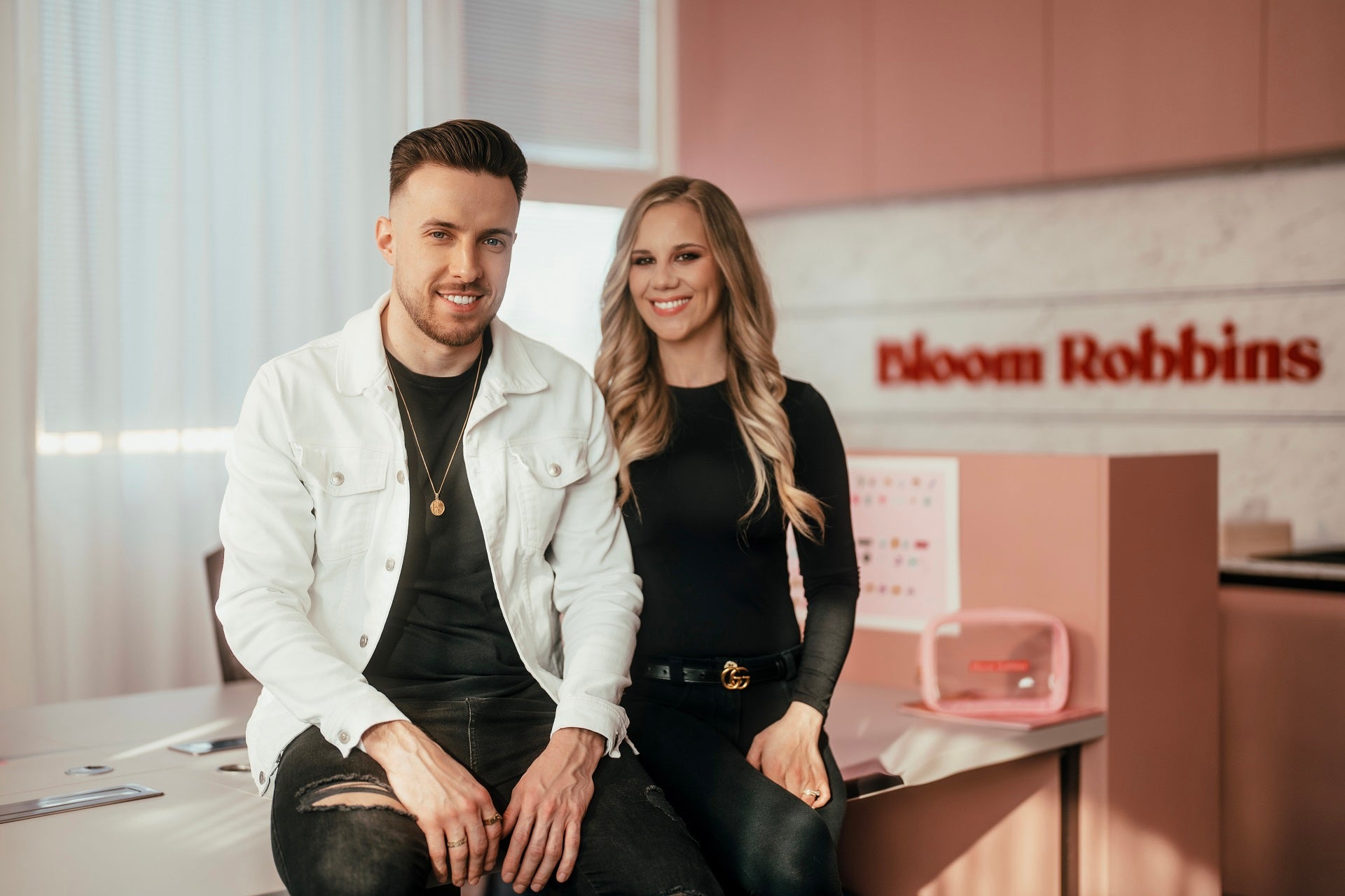 It started with hair, which we both love
"We always wanted the best for our own as well. Our first product was created for people for whom hair is not just hair, but an inseparable part of their unique personality and self-expression.

Because that's exactly how we feel it.

You know it, the world is conquered easier with beautiful hair.

Over the last few years, we have realized that we want to create amazing products that would help as many women around the world as possible to flourish in maximum beauty. So that women, thanks to our products, feel more confident and sexy. Beautiful and full of life.

And that's why today's Bloom Robbins is not just about hair. It's about beautiful skin, healthy sleep, immunity or digestion, because we believe that true beauty glows from the inside.

We believe that every woman deserves to shine."

Adam and Zuzana Cvik - founders of the Bloom Robbins brand"
Get to know Us
Look how we've grown
2023

Bloom Hair has changed to Bloom Robbins

It won't be just about hair anymore. We believe that true beauty shines from within and that's why it will also be about beautiful skin, better sleep, immunity, and digestion.

2023

New products

We have stepped into 2023 as a strong player in dietary supplements. Start enjoying your daily vitamins in a fun gummy form. Do you already know all of our new bestsellers?

2023

Bloom Robbins in TV

Wow! Since March 2023, you have the opportunity to see your favorite beauty brand on TV. If you have already seen our advertisement, we are curious to know how you liked it.

February 2023

New indentitY

The impossible became reality. Bloom Hair, our beloved brand which has 20 team members except Zuzka and Adam, becomes something new. Welcome in Bloom Robbins era, we have been working on it during 2022.

2022

2022

Getting ready for a new era

The impossible has become a reality. Bloom Hair - our beloved brand which has 20 team members except Zuzka and Adam, becomes something new. And we welcome you to the era of Bloom Robbins, which we have been preparing for throughout 2022.

2022

Fruit flavor

Our constant desire to improve our products has led to the improvement of the appearance and taste of our gummies. To make the flavor even more exceptional, we have started to use only natural colorings and flavorings. So, the fruit flavor of our gummies comes from real fruit.

2022

We were also appreciated abroad

Our famous unicorn hair gummies have won prestigious beauty awards.

2022

We fight for stronger and more confident women

Hair loss for women who suffered from cancer is a huge intervention to their self-confidence and femininity. That is the reason why we have decided to supply the non-profit organization Amazons (that connects these women) with our products. During October, we organized a collection for Amazons and we were able to raise €1900. Together with WomanUp, we organize a monthly Bootcamp to help women with education and personal development.

2022

More than 500 stores

We are no longer just online. You can find us on the shelves of TETA drugstores and in hundreds of pharmacies throughout Slovakia.

2022

ELLEphoria and FOR BEAUTY

We care about getting to know you, our customers, in person. That's why we participate in beauty festivals, as well as fairs in Slovakia and the Czech Republic.

2021

Welcome Bloom Hair for new mommies

Pregnancy brings various changes in a woman's life. However, they shouldn't have to suffer from hair loss! Zuzka thought intensively about this message during her pregnancy. That's why she created gummies that provide the best for healthy and beautiful hair for pregnant and breastfeeding mothers.

Development of new products

We have decided that we don't want to limit ourselves to just hair products. We want women to feel confident and strong in their entire body. That's why we have worked hard and started developing new products that we will gradually introduce to you. The emphasis on top-quality ingredients is in our DNA.

2021

We are expanding to new markets

And that is how we have continued to grow...In 2021, we expanded into Polish and Hungarian markets. Following Slovenian, Romanian and German markets a year later. Our EU store currently delivers the packages to all European countries.

2021

We are strengthening our team

Although we founded the brand as our common project, we realized that we need to grow and expand our stellar team. That's why we quickly grew from 2 founding members to 12. And we are moving forward!

2020

Dominating the Slovak and Czech market

To this day, we are the number one seller of hair vitamins in these two countries and are loved not only by many famous people, but mainly by you - our unique customers!

2019

Entry into the Czech-Slovak market

In 2019, two years after starting selling in America, Bloom Hair entered the Czech-Slovak market.

2018

Development of gummies Healthy Hair by Bloom Hair

As not every woman prefers the capsule form of taking vitamins, we thought about how to solve this "medical" aspect. We came up with the idea of creating a dietary supplement, still with a powerful composition, but in a tasty gummy form that would represent a playful way of taking vitamins.

2017

1st product introduced to the public

Hooray! After 2 years of product development, it is the moment that everybody has been waiting for. The first batch of our Bloom Hair capsules arrived at our newly opened office. Along with them came the first orders and positive feedback, which confirmed that what we're doing really makes sense.

2017

Conquering the USA

We have always wanted to create a global beauty brand and that's why we chose the USA as the first country to sell our products. The rich American market welcomed us and we slowly began to learn how business operates across the pond.

2017

Photoshooting in Bali

We have always cared about the visually stunning presentation of our brand. That's why we chose Bali as the destination for the first photoshoot of Bloom Hair products.

2016

The creation of the identity of Bloom Hair

Later on, the creative part of our business process came into play. We had to come up with a name that would represent the entire brand. We decided on the poetic name "Bloom Hair", with the main claim of the whole communication being "Let your hair bloom with Bloom Hair." The first packaging designs were made for us by a graphic studio from Australia. The reason was simple... we always had a weakness for Australian design :)

Finding the right manufacturer

Finding the right manufacturer that meets the highest standards of quality is not an easy task. That's why we didn't hesitate to travel throughout Europe from Geneva to London until we found the right partners for the production of our exceptional products.

2015

2015

The beginning of our journey towards beautiful hair

At the very beginning, our ambitious plan was to develop a product with such an effective composition that could help women achieve healthy and beautiful hair without compromises. The reason was simple. We love hair and we want only the best for our own. The first product concept we started working on was hair vitamin capsules.
Get to know our team
Adam Cvik

Co-founder & CEO

It brings people together for extraordinary things that have a soul. One of them, for example, is Bloom Robbins, which he founded with his girlfriend, current wife, Zuzka.

Zuzana Cvik Zureková

Co-founder & CEO

She likes to overcome her own limits and nothing, but really nothing, is impossible for her. She really thinks about all the details and puts other needs in front of his own!

Michal Kmet

Head of design

Always with a smile and a positive mood when creating new things. He likes to play sports and enjoy his free time in the mountains, where he draws inspiration.

Eliska Jedinakova

Product manager

She knows everything about the production of products, their packaging, stocking up to sale. She works with the Bloom Robbins team on new products, she's creative, and the sage of her coffee is travel, humor and wine.

Marek duracka

Project manager

He likes order and organization of tasks. He likes to create new things and discover opportunities. His secret love in the office is chilled prosecco.

Petra Čutríková

Campaign Manager + Social Media Creator

She loves TO-DO, plans and clear goals. Concepts like morning routine, to-do list, wishlists, monthly must-haves are her love.

Jakub Džmura

E-commerce Manager

Technology, finance and reports are his toy. He enjoys working with data and scaling the growth of e-shops.

Barbora Neuschl

PR & Influencer Manager

A makeshift solutio is no solution for her. She embarks on everything with the condition of 100% of the result. Her passion for tasks is great, because working for Bloom Robbins is a dreamjob. Among other things, tshe is our tripadvisor

Petra Vančová

Office manager

Just turn to her and in a matter of seconds we have everything we need in the office on the desk. Without her, our Bloom Robbins office would not be able to function.

Šimon Augustín

Web Admin

He used to work "only" with an e-shop, but thanks to his quick learning, after a very short time he gets involved in really everything that needs to be prepared in the digital world of Bloom Robbins.

Andrea Závodná

Invoicing

She is a perfect colleague who always solves even the most complicated work with a big smile on her face.

Veronika Vavrová

Development of cosmetics products

She believes in the perfect combination of love and chemistry - which is shown in the cosmetics she tries to create for Bloom Robbins. She's working on what you can't see yet, but - you have something to look forward to!
Our philosophy
What we believe in
Our main goal is to support women's development. We want them to feel self-confident and beautiful and let them know that they can achieve whatever they want.
We fight for strong
and self-confident women
And we take it seriously. The mission of Bloom Hair is to help women and give them strength and chance to succeed. We cooperate with non-profit organizations::
Amazons
And we take it seriously. The mission of Bloom Robbins is to help women and give them strength and chance to succeed. We cooperate with non-profit organizations::

Woman up
Together with Woman up, we organize Bootcamp every month. The Bootcamp helps women to study in the field of self-development. Are you interested in studying with us? Let us know!